Reproduction Project
The Engels E6 is an attempt to create as close to the original as possible, a reproduction of the Fokker D.VIII.
The aircraft was supposed to be registered in the limited special class of experimental aircraft in Germany. The project was registered under: 2002438 with the German Aviation Authorities. It´s internal serial number was E.6 001 2002438
This registration process in Germany however was canceled, since the airplane was given on long term Loan to TAVAS of Australia. It was there completed and registered. It will return to Gemany by 2030 in airworthy condition. As part of the long term loan agreement, the aircraft will return with its engine in airworthy condition to Germany in 2030 and will become part of my own museum then. Details about that museum project can be found on my website
The aeroplane can be seen flying at "The Australian Vintage Aviation Society" at Caboolture, Queensland, Australia. Make sure to check their video clips on Youtube, too.
Currently I am working on another Engels E.6 like this one. This aeroplane will be availiable for trade against a new rooftop which I need to house my planned museum. You may want to follow its built either on the website or on Facebook. Anybody who might find interest in this airplane, feel free to contact me for further details. Of course this also is an oportunity for others to participate in the built and to learn about vintage aircraft manufacturing.
As mentioned before I have already built three of these planes. Two of them were commissioned for TVAL of New Zealand. These however have got wings made by Koloman Mayrhofer. The third one is flying in Australia and is on loan. It is still my own aircraft. The making of these three aircraft is documented in my book "Fokker D.VIII - In Detail" which can be downloaded by clicking on the image here.
Welcome to the
ENGELS E.6
by the Fokker-Team-Schorndorf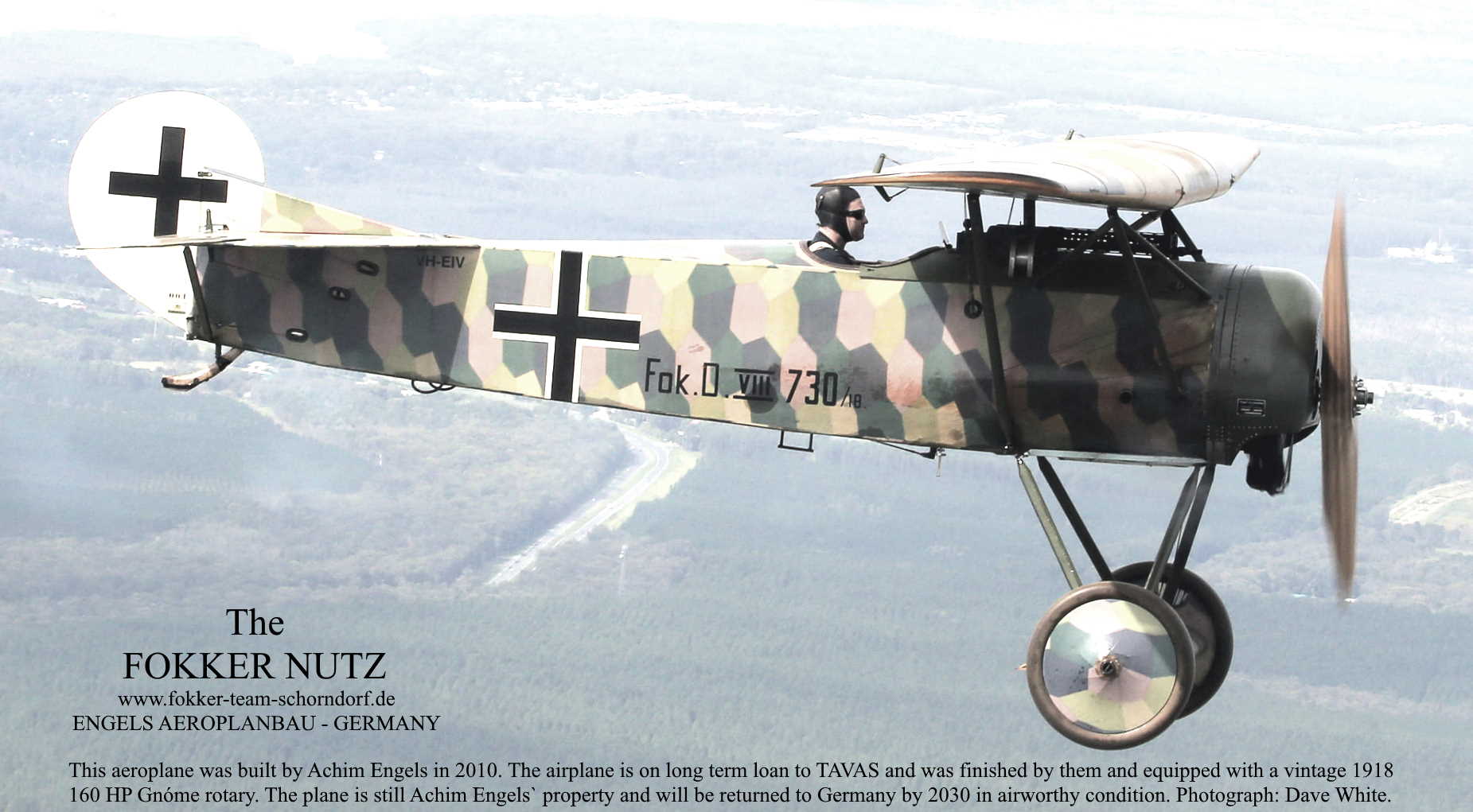 Achim Engels
Engels Aeroplanbau
Heubeundstrasse 1
73116 Wäschenbeuren - Germany
E-mail: engels@fokker-team-schorndorf.de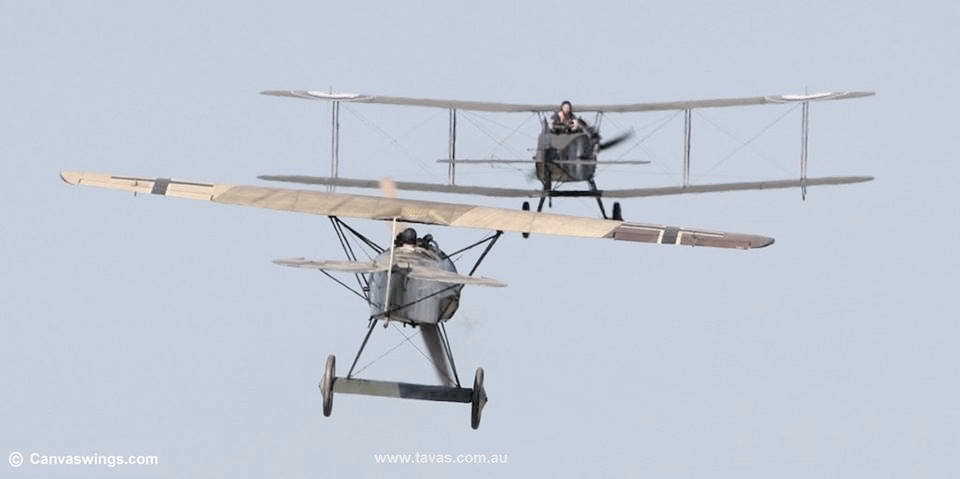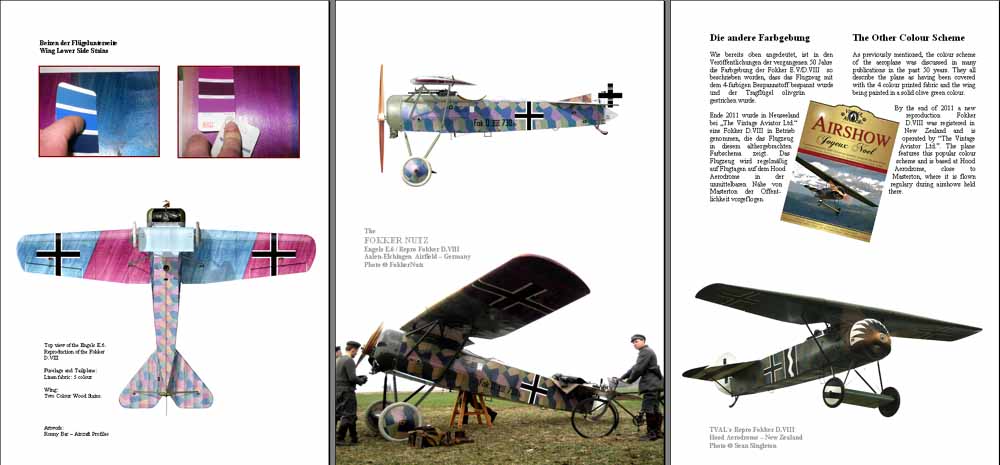 "Fokker D.VIII - In Detail" Jetzt erhältlich.

Nachbauprojekt
Bei der Engels E6 handelt es sich um den Versuch, die Fokker D.VIII von 1918 möglichst authentisch nachzubauen.
Das Flugzeug sollte in der beschränkten Sonderklasse als Experimental zugelassen werden. Die LBA Gerätenummer lautete hierfür: 2002438. Die Interne Seriennummer lautet daher E.6 001 2002438
Da ich mich dazu entschlossen habe, das Flugzeuge im Tausch für den Motor als Leihgabe nach Australien an TAVAS zu vergeben, wurde die deutsche Zulassung abgebrochen und das Flugzeug in Australien fertig zugelassen. Im Jahre 2030 soll das Flugzeug flugtauglich und mit Motor nach Deutschland repatriiert werden und wird dann Teil meines kleinen Museums. Details zu diesem geplanten Museums findet Ihr
Besichtigungen des Flugzeuges sind derzeit in Australien bei "The Australian Vintage Aviator Society" in Caboolture, Queensland möglich.
Derzeit entsteht bei mir eine weitere Engels E.6. Ihr Baufortschritt wird auf meiner Internetseite regelmäßig dokumentiert und kann auch auf Facebook verfolgt werden. Dieses Flugzeug steht zum Tausch gegen ein Dach. Wer an diesem Flugzeug Interesse hat, soll sich bitte bei mir melden. Natürlich besteht auch die Möglichkeit einfach hieran mitzuarbeiten, um mehr über den Flugzeugbau jener Tage zu erfahren.
Von diesem Flugzeug habe ich bereits drei gebaut. Zwei davon im Auftrag für TVAL in Neuseeland, die damals mit Tragflächen von Koloman Mayrhofer ausgestattet wurden. Die dritte fliegt wie gesagt derzeit als Leihgabe in Australien und ist meine eigene. Der Bau dieser drei Flugzeuge ist in meinem Buch "Fokker D.VIII - In Detail" dokumentiert, welches durch den Klick auf nebenstehendes Bild heruntergeladen werden kann.