Reproduction Project
The Engels E3 is an attempt to create as close to the original as possible, a reproduction of the Fokker D.VII.
The construction of the first aircraft of this type was started in 2002. I have built 5 of these planes so far plus many parts for other projects in commission.
One of these aircraft was recently released and shown to the public by TVAL who commissioned me to built it for them as one of two aircraft of that type, one early one late model. It flies now in the colour scheme of Willy Gabriels 286/18. This specific aeroplane was started in 2005 and was completed in 2009/10. It was then sent to New Zealand for completion, but TVAL decided to have it finished by Fred Murrin in the US. It is now finally part of the TVAL collection. They did a great job in creating a reproduction new built Mercedes D.III engine to power it.
Another aeroplane I built of this type is still my own and is now on long term loan to TAVAS of Australia. This airplane has not flown yet, but is almost completed and will also be equipped with a proper engine.
One more aircraft I built for a German banker was a bit of desasterous project which was screwed up big time by the owner. It is now being finished by Koloman Mayrhofer in Austria. Only the wings I made for this plane survived in this project all other parts are new made by others. Unfortunately it turned out that the Fuselage, tailplane and undercarriage - that wre new built by others - are a mishmash of all thre manufacturers, O.A.W., Albatros and Fokker. To learn more about this you may want to check out the story of "The Two Unequal Fokker D.VIIs" on my homepage.
And I also own one more D.VII which is still under construction at my place in Wäschenbeuren. This aircraft is supposed to be the first reproduction attempt on a very early Fokker D.VII pre production model, 228/18. This plane can be seen at my place and in case of interest it is possible to participate in the built to learn more about early aircraft construction.

On this page I will show you some of the images taken during the construction of the various aircraft of that type.
Welcome to the
ENGELS E.3
by the Fokker-Team-Schorndorf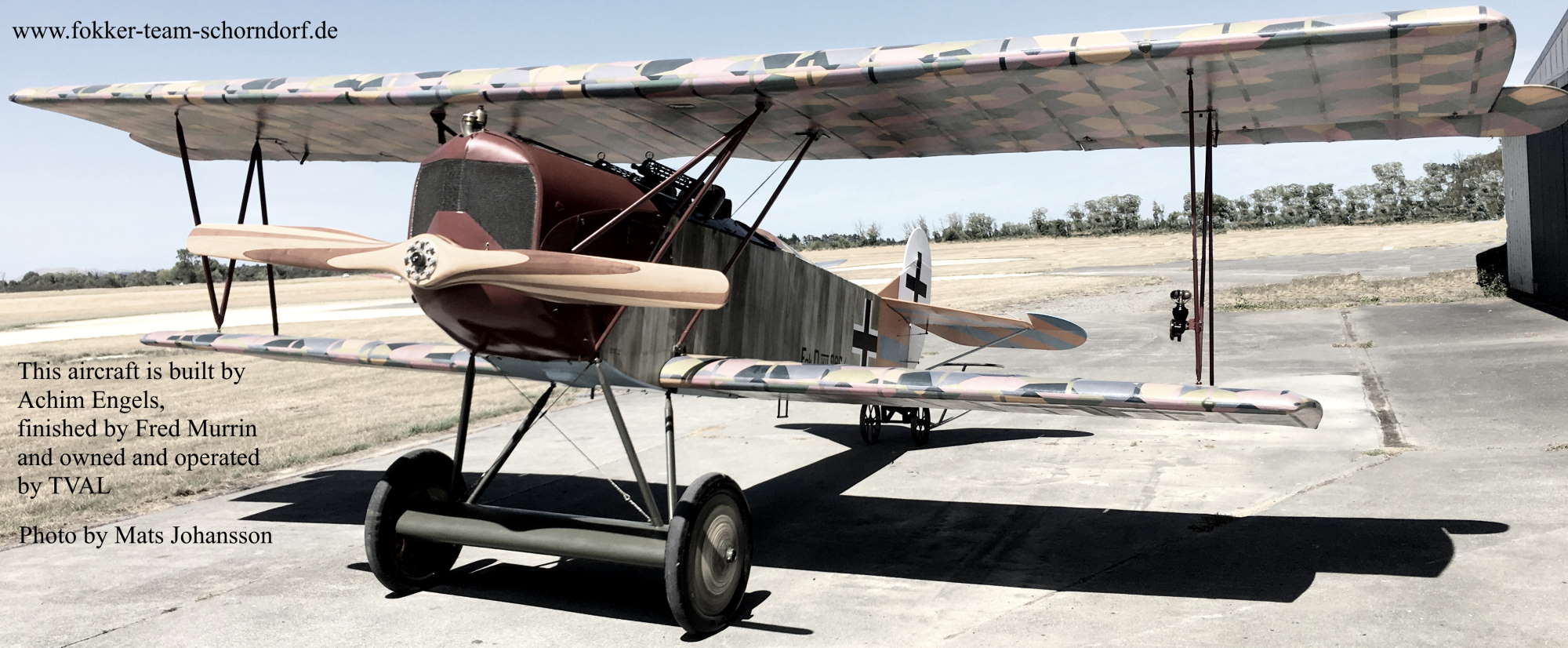 Achim Engels
Engels Aeroplanbau
Heubeundstrasse 1
73116 Wäschenbeuren - Germany
E-mail: engels@fokker-team-schorndorf.de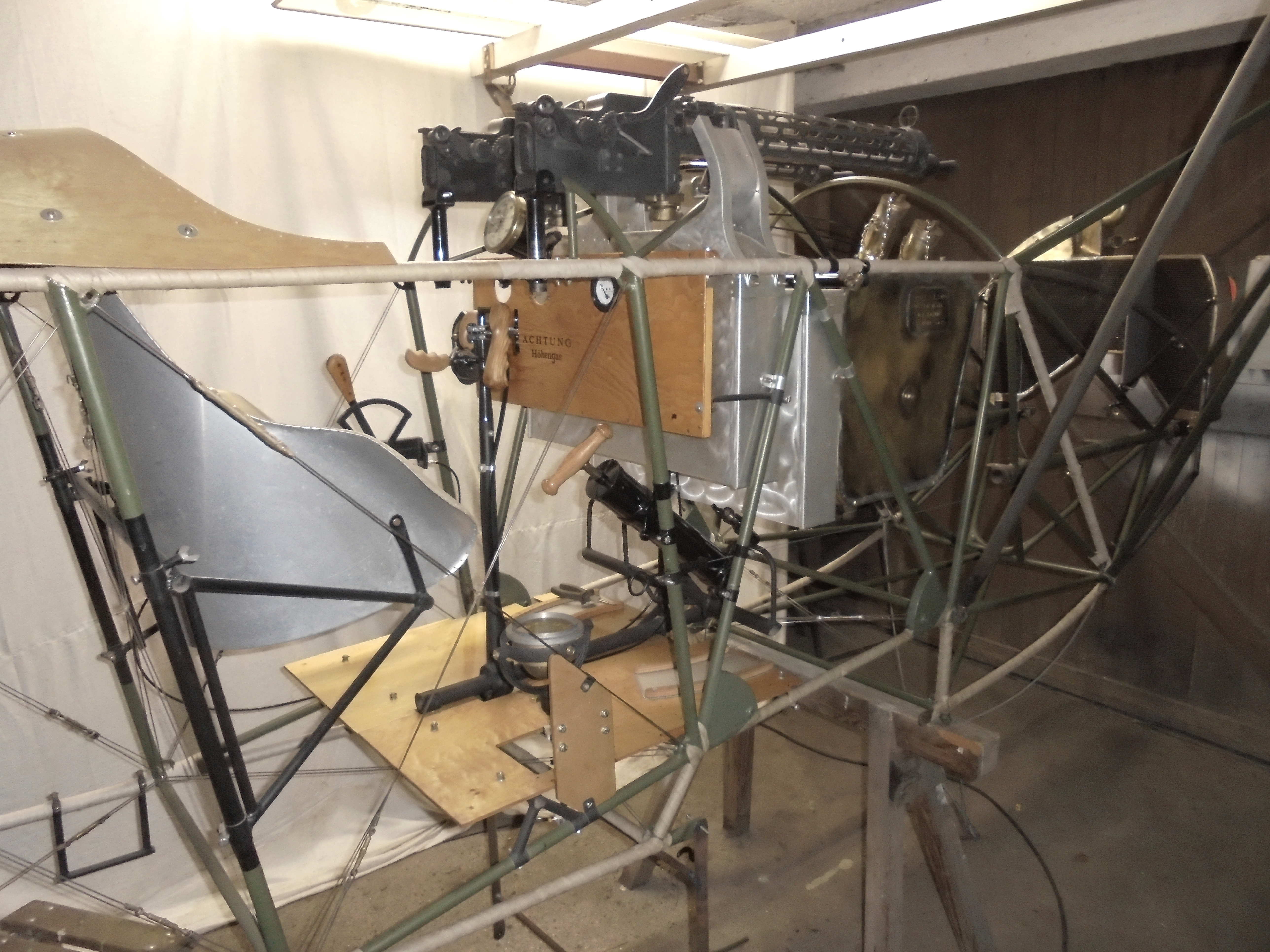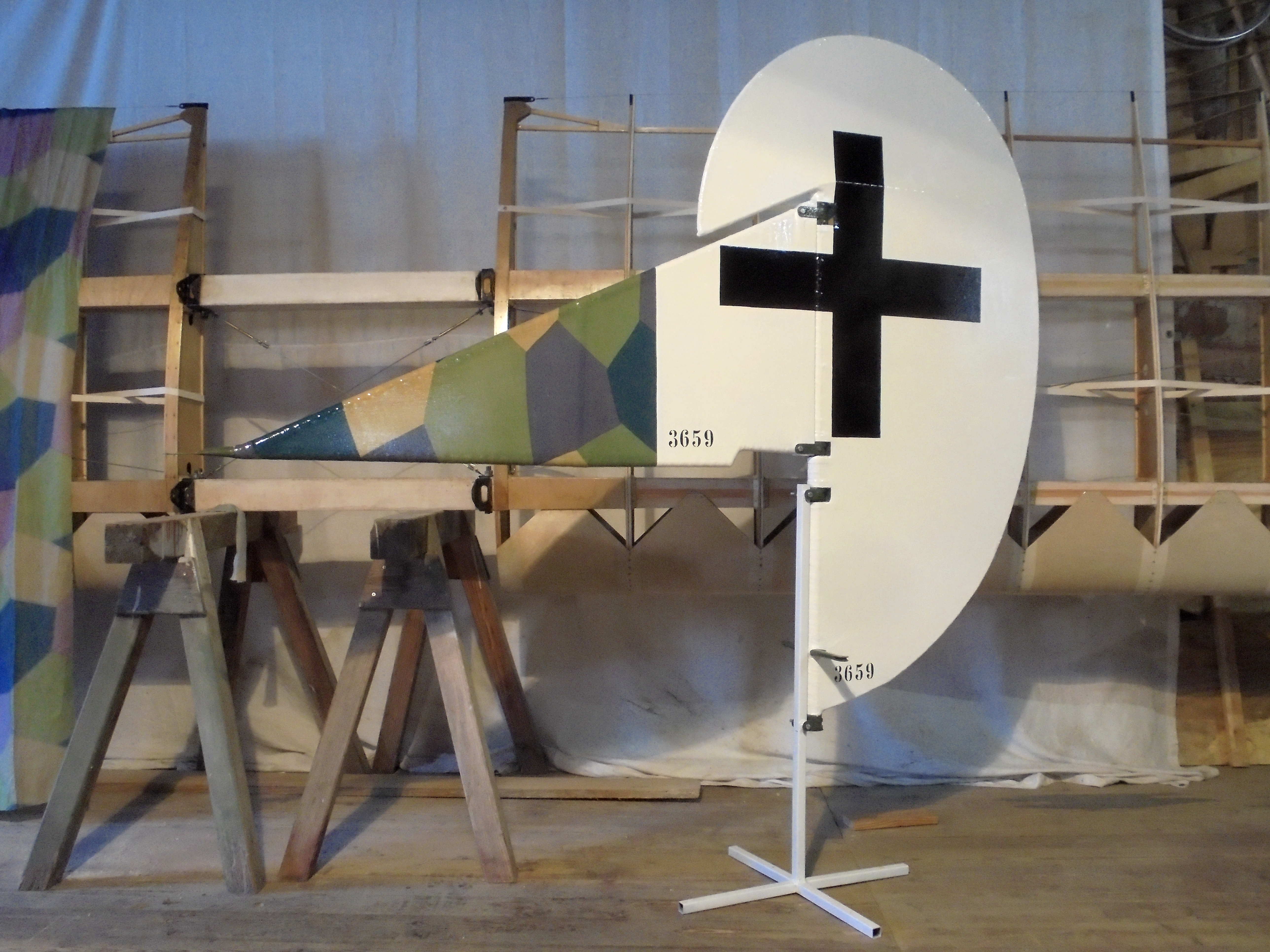 Nachbauprojekt
Bei der Engels E6 handelt es sich um den Versuch, die Fokker D.VII von 1918 möglichst authentisch nachzubauen.
Der Bau des ersten Flugzeuges dieser Art durch mich begann bereits 2002. Mittlerweile habe ich fünf Flugzeuge dieses Musters unter der Bezeichnung Engels E.3 nachgebaut, sowie Einzelteile für viele andere im Auftrag gefertigt.
Eines dieser von mir gebauten Flugzeuge wurde 2019/20 bei TVAL der Öffentlichkeit präsentiert. Es ghandelt sich hierbei um eines von 2 Flugzeugen, die TVAL bei mir in Auftrag gegeben hatte. Die Maschine fliegt nun in den Farben von Willy Gabriels 286/18. Der Bau dieses speziellen Flugzeugs begann bereits 2005 und es wurde 2009/10 fertiggestellt. Es wure anschließend nach Neuseeland zur Endmontage Ausgeliefert, von dort aber zur Fertigstellung nach Amerika gesendet, wo Fred Murrin sie fertiggestellt hat. Nun ist es Teil der TVAL Sammlung. Für das Flugzeug hat TVAL den Mercedes D.III nachgebaut.
Ein weiteres Flugzeug, welches ich gebaut habe und das noch mir gehört ist derzeit bis 2030 nach Australien an TAVAS ausgeliehen. Dieses Flugzeug fliegt allerdings noch nicht und wartet derzeit noch auf einen geeigneten Motor.
Ein Flugzeug, das ich für einen deutschen Bankangestellten gebaut habe, entwickelte sich zu einem verhängnisvollen Desaster, das durch die Inkompetentz des Auftraggebers ordentlich durcheinander geriet. Dieses Flugzeug wird derzeit bei Koloman Mayrhofer fertiggestellt. Nur die Tragflächen, dieses ursprünglich als sehr frühe D.VII geplante Nachbauprojektes sind noch von mir. Der Rest stellt nun ein Mischmasch aus Albatros-, O.A.W.- und Fokker-Flugzeugen dar und wurde von anderen zusammengebastelt. Wer gerne mehr über dieses seltsame Projekt erfahren möchte, darf sich gerne die "Die Geschichte der zwei ungleichen Fokker D.VII" auf meiner Seite durchlesen.
Und letztenendes besitze ich noch eine weitere Fokker D.VII, die sich derzeit noch bei mir in Wäschenbeuren im Bau befindet. Dieses Flugzeug soll der erste Versuch sein, eine sehr frühe Vorserien-D.VII mit all ihren Besonderheiten nachzubauen, die 228/18. Dieses Flugzeug kann bei mir besichtigt werden. Es ist auch möglich am Bau selbst teilzunehmen, um mehr über den Flugzeugbau der damaligen Zeit zu lernen.

Auf dieser Seite werde ich Euch einige Bilder der verschiedenen Maschinen im Bau zeigen.